Joy sharing on the impact 'the Africa Fund' has had.
Our involvement with the Deliverance Church in Arua began in 2001, at which time we helped resource the establishment of a Honey Project in the neighbouring DR Congo.
The church now have a vision for chicken rearing on land to the south of the town, and related wealth generating projects.
Many people in the community are unemployed of have income of 135,000 /=Ug or less (£30 equivalent).
The Africa Fund made an initial grant (2011) to start this new initative, and wish to continue to give a 'leg up' over the next 5 years.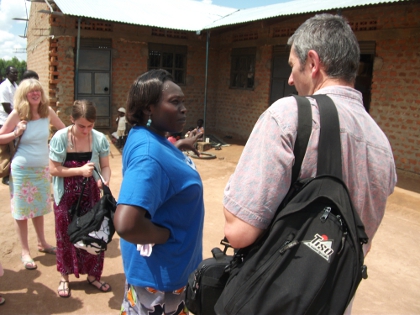 Esther Generation
This excellent initative was the brainchild of Julie Aza & Vicky Ward, and has been established by Julie and her husband Nicky over the past 4 years.
The aim is to provide input and encouragement, through regular camps and ongoing support for girls in the 10-14 years age range. They noticed that many of such lacked vision for their lives, many falling pregnant at an early age and ending up in poverty and hardship. Inspired by the Book of Esther, they seek to instil a sense of destiny and value in the girls, and to make wise choices.
To help fund this project, the Aza's have also established a fee paying primary school.
The Africa Fund has given several grants to support the camps (each camp costs about £500 to run), and in 2011 committed to give £1500 a year for the next 3 years.